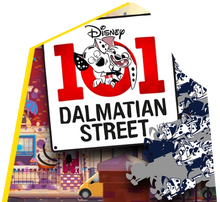 101 Dalmatian Street is an upcoming Disney Channel animated series, based loosely on the 1961 movie One Hundred and One Dalmatians. It is planned for release sometime in early 2019.
Press Info
One of the big new announcements on Tuesday, and set to roll out around the world from the end of 2018, 101 Dalmatian Street is inspired by Dodie Smith's 1956 novel and Walt Disney's 1961 One Hundred and One Dalmatians. But it is has been updated and moved to contemporary London. It depicts the adventures of eldest Dalmatian siblings Dylan and Dolly, parents Doug and Delilah, and ninety-seven younger puppies, all with names beginning with "D", who live all by themselves at the titular address. London's Passion Animation Studios will lead-produce. Maria O'Loughlin writes, Miklos Weigert directs.
Ross showed a first-look development trailer, created by Passion.
"This teaser is the biggest, messiest family comedy you could imagine," he said. Narrated by Dolly, interrupted by Dylan, it showed the parents at their job – Dad Dalmatian works as firefighter – Dolly and Dylan running the house in their absence, and having fun on the London Eye. Animation looked fast-paced, eye-popping in color and kinetic, featuring knockabout (canine) family fun.
This shall be the first show to air on each of the three main Disney Channels: Disney Channel, Disney Junior, and Disney XD.
The show is set for 48 eleven-minute episodes, with two double-length special episodes.
The first season will have twenty-six episodes, and each will run for twenty minutes.
Cast
Rhashan Stone as Doug[1]
Ella Kenion as Delilah[1]
TBA as D.J.
Akiya Henry as Da Vinci and Roxy[1]
TBA as Dante
Lauren Lindsey Donzis as Destiny and Deja Vu[1]
Margot Powell as Dorothy
TBA as Dawkins
Bert Davis as Disel[1]
Nefeli Karakosta as Dizzy[1]
Florrie Wilkinson as Dee Dee[1]
Abigail Zoe Lewis as Dollis[1]
Jack Binstead as Delgado
Stephen Mangan as Doctor Dave[1]
Aimee-Ffion Edwards as Arabella and Big Fee[1]
Ben Bailey Smith as Sid the Squirrel and Spencer the Sausage Dog[1]
Paloma Faith as Portia Poodle[1]
Miriam Margolyes as Bessie the Cornish Cow[1]
Tameka Empson as Pearl the Police Horse[1]
Bethan Wright as Prunella Pug[1]
Gallery
Screen Shots
Promo Images
References